Pub Walk (98) Saturday 7th March 2020, from the

Royal Oak, Andoversford

North Cotswold Branch of the Campaign for Real Ale
Report by Martin Jones
   Nine walkers gathered at the Royal Oak for the Branch's 98th Saturday Pub Walk, on 7th March. Food was ordered form a fine menu in the Pub which was already busy with a crowd enjoying breakfast. We set off eastward from the village in fine dry conditions towards Shipton Olliffe and crossed the A436 where the sports ground was full of Junior Soccer games. Turning south the walk took us alongside Shipton Golf Course as we climbed towards the hamlet of Foxcote.
.
   Climbing the small road out of Foxcote we then crossed the A436 again past the Kilkenny Inn with fine views across the valley towards Cheltenham. Now dropping down back towards Andoversford we galloped across the point to point race course before unfortunately hitting a large water jump in the form of a very wet meadow. This was negotiated with some muddy splashing before we emerged opposite the Royal Oak.
   Excellent food and beer was consumed with ales from Prescott and Clavell and Hind along with Young's London Bitter.
Group Photo taken before commencing the walk:
<![if !vml]>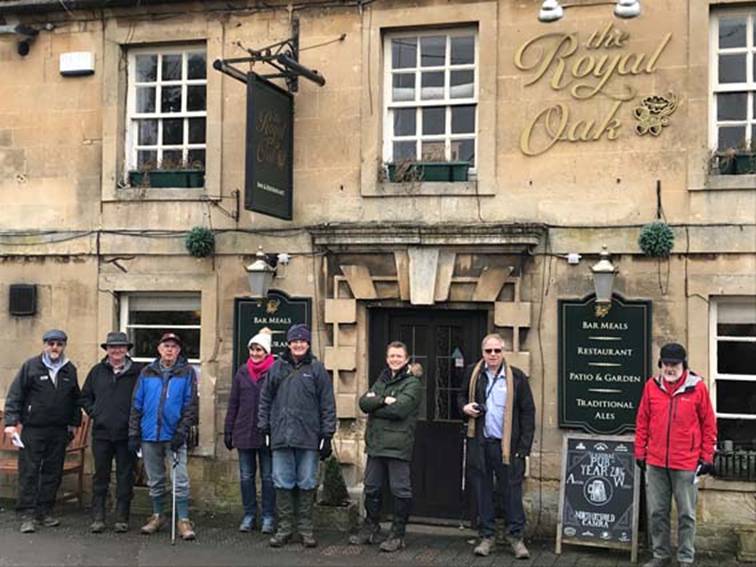 <![endif]>
            Our subsequent walks had to be cancelled until post Summer due the Covid-19 pandemic.